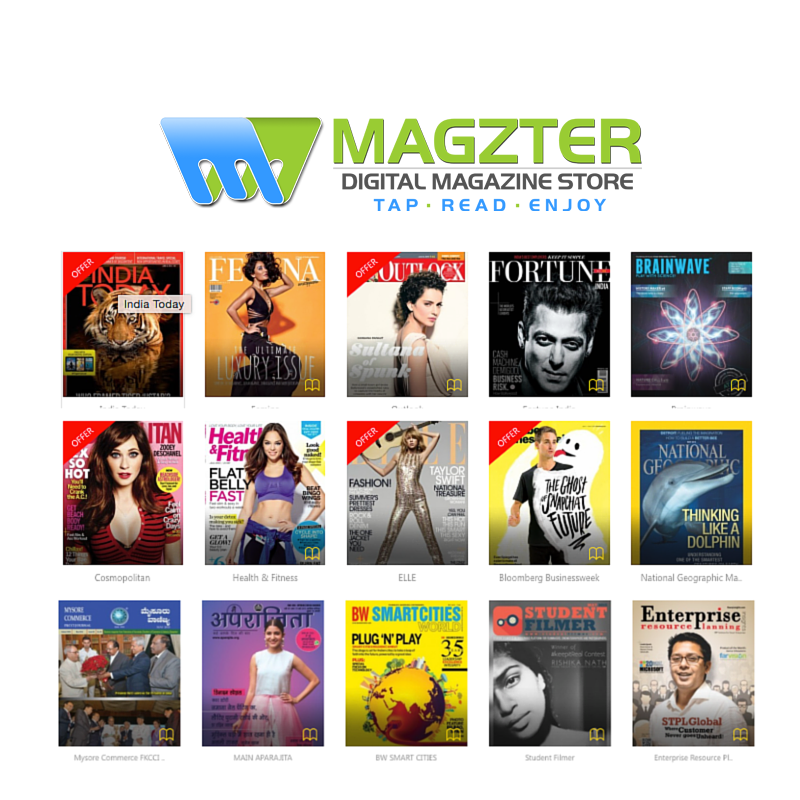 When the internet revolutionized reading habits globally, it undoubtedly shrank space and attention spans for print magazines and newspapers. And yet, there was a small segment of people trying to wed their interests in the old media platform with the opportunities and possibilities created by new technological trends. One such successful venture is Magzter, a new age digital magazine store that has brought the two platforms together in a fantastic union of sorts.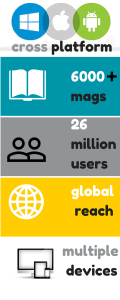 What does Magzter do?
Magzter is an online cloud-based cross-platform magazine forum that came up in 2011. Starting with a modest number of subscribers, their growth to 6 million users brought them and their model global attention from publishers and readers alike. Since their early days, they have added nearly a million new followers each month to reach a magnificent base of 26 million users today, a number that has perhaps become larger since this case study was compiled. Listing thousands of magazines across nearly 2500 different publishers on its platform, Magzter was a revolutionary entrant into the world of magazines, by importing existing avenues of information into a new medium.
Why do publishers love Magzter?
Zero upfront investment and a quick upload are two of the top reasons why! The low-cost revenue share model means all they have to do is to upload their files to Magzter's cloud-based publishing system, which is then published by Magzter to Android, iOS and Windows 8. Since the data is stored on the cloud, no issue is lost even when devices are switched. On the other end, publishers get to access their very own dashboard on Magzter, which offers them analytics on magazine sales, downloads, and about which articles and ads are being read, and for how long. Expanding beyond the ambit of the regular web application, Magzter also made inroads into the tablet and smart phone world with the same content. About 90 percent of the titles on Magzter are replicas of the print editions in PDF form. Magzter also helps publishers build their own apps if required and they work constantly to improve the reading experience for users. Currently, they are working on ways to improve readability of magazines on the mobile screen, a size much smaller than tablets for which publishers had adapted their digital editions of their magazines.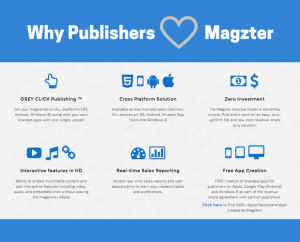 What is the marketing strategy at Magzter?
One of the questions we had was how Magzter got their early numbers. Marketing surely would have been necessary to get publishers signed up as much as it was needed to get users to download the app. It emerged that Magzter had worked hard to sign up India Today, one of India's most respected publishers even while the app was being rolled out. This gave them access to not just 35 of India's leading magazines but lent their business model a lot of credibility in the eyes of other publishers they approached. Growing early users was again a classic case of a great co-promotional alliance with Microsoft. The decision to offer device-embedding by Microsoft, along with active co-promotion of the Magzter Windows8 app on their own platforms including social media gave the app a tremendous boost. From an initial 500 to 1000 downloads a day to over 40,000 downloads a day; the range of users has risen.
Says Girish Ramdas, Co-Founder & CEO of Magzter – "In our early days, publishers were not yet convinced about a digital platform. Once they saw us hit over 6 million users within a year, they also felt the need to adapt to the changing reading habits of people. A lot of our next level growth can be attributed to this change in publisher mindset. Many of them who then signed up with us, started evangelizing the platform and promoting it on their own sites, giving the App a whole new audience." Girish also attributes Magzter's success to their early belief in being a cross-platform model that supports multiple devices. His observation that the last two years have seen an unprecedented boom in smart-phone, mobile devices and the concept of most users having a 'second screen', a tablet or a phablet on which they consume content digitally, on-the-go.
Current Marketing focus at Magzter
Magzter has consciously been positioned as a global business. Headquartered in New York, they have strategically worked out a business that has a viable and sustainable revenue model right from the word go. Paid subscriptions are an important part of their business. Towards this, they have recently launched an "all you can read" subscription model called Magzter Gold, giving a user access to the entire range of magazines on Magzter for a monthly fee – at a fraction of what it would cost the user to individually subscribe to even just a couple of magazines.
Online and Social media: The promotion of Magzter Gold, like their earlier marketing efforts does include the online web version of the portal. In addition, they leverage their large user base by sending relevant in-app notifications and messages to users. A 1.4 million-fan base on Facebook is also a great audience to offer their new options to. They have found all these channels to contribute positively to the business.
International reach: Magzter continues to expand into new locations and regions, adding more publications and users as they do so. This continues to be an important part of their marketing efforts as well, as being a global player is what has given them success on a scale that is viable and sustainable. Although many Indian app makers focus on Android platform, Magzter's success includes a huge share of iOs (apple) device users. The company reiterates that amongst paying users, the lion-share comes from iOS users, almost on a 10:1 ratio. This makes the iOS audience a significantly important one to market Magzter to.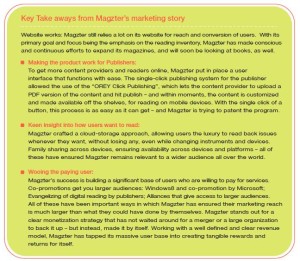 Growing with alliances: Learning from their early success, Magzter continues to forge alliances that can give them access to new users. Keeping this side of their marketing alive in India, they have signed up co-promotion deals with HDFC Bank to offer a special discount on Magzter to their card users.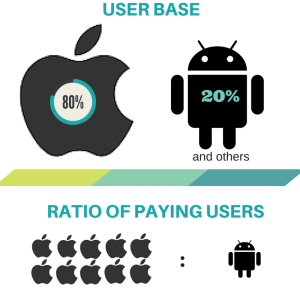 A co-promotion with GroupOn, sending out time-bound offers on Magzter has also helped widen their reach. Of special interest, is their offer of free access to all students of IITs and IIMs in India. By using their student email id, the students of these leading institutions get complete access to content on Magzter. From our perspective, this is a great marketing investment in getting early loyalty from the future professionals of the country. Riding on the e-commerce boom in India, Magzter has tie-ups with FlipKart, Croma and eBay – giving offers that obtain higher visibility for them amongst shoppers on these partner sites.
Magzter has had a fantastic first mover advantage. Although their roots are here in India, they went after a global audience which was ready for their app ahead of India. Their combination of understanding the publisher mindset, reading the opportunities for digital content correctly along with a well-executed business model backed by great technology has given them a leadership position in their field.
To download our e-book that has a whole list of other case studies for you to read, click here.
Written by – Kirthi Jayakumar
Research team – Pavithra Charan
Special thanks to – Girish Ramdas, Co-founder & CEO, Magzter