In a short span of four years, many of us in India have latched on to online shopping for home décor and furniture. The birth and growth of Urban Ladder is intertwined with this change. Offering everything from accessories to full-fledged practical pieces of furniture directly up to the customer's doorstep, Urban Ladder has redefined the experience that furniture shopping is, in itself. While being one of the first movers in the process of shifting the spotlight on furniture shopping from the offline market space to the online market space, Urban Ladder captured a significant segment of the market through its focused marketing efforts.
Marketing that focused on targeted buyers and building engagement
A keen customer insight and a deep commitment to engagement with users – these are the key factors that have contributed to the success of Urban Ladder.
Insight: Furniture shopping is a high involvement area, people buy based on word of mouth referrals from family and friends. The emotional connect with buying a furniture item is relatively high. Given how this worked in the offline domain, Urban Ladder tried to capture this essence in their marketing strategy. Social sharing was the equivalent of physical word of mouth and this was key to establishing credibility and trustworthiness of Urban Ladder. Trust, credibility and reliability were found to be important to customers. As a new entrant, Urban Ladder relied on user stories or customer testimonials to let people know that they were real and reliable.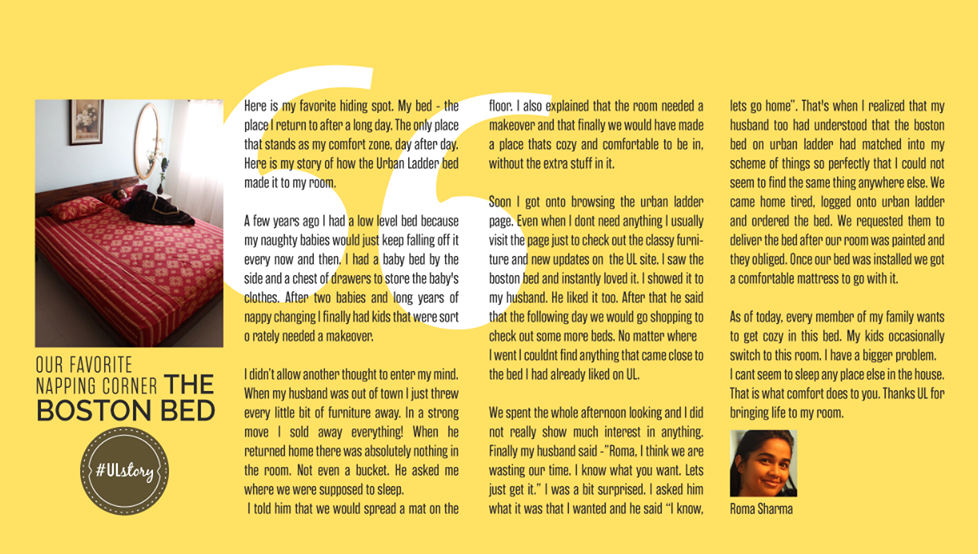 Using customer testimonials in the brand's marketing communication has set Urban Ladder apart. For the brand, it was a combination of both, a conscious decision on part of the marketing team and a hunch. When Urban Ladder was launched at first in July 2012, buying furniture online as a purchase category had not evolved yet as a concept. The buying behaviour was significantly pivoted around word-of-mouth publicity. Urban Ladder translated this insight into the online buying pattern of customers, of relying on friends and family for recommendations and suggestions. Happy customers were willing and happy to share their stories – and given that furniture is a high-involvement, high-emotion and high-stakes investment to make, the need to use testimonials and happy stories of real customers was imperative to create a sense of comfort around buying furniture online.
Campaigns were driven around this idea of user stories; Product listing on the site was tweaked to show other buyer/user stories and Social media was used to amplify and gain additional traction on the back of these testimonials.
Gathering Stories
The stories were put together through direct sourcing of testimonies from the customers themselves, while also pulling out and curating stories from real time interactions across their social media platforms of Facebook, Instagram, Twitter and email. Buyers shared their photographs of the furniture as it was set up in their spaces, sometimes with hashtags such as #ULStory and #UrbanLadder, sometimes with full length appreciable narratives. Urban Ladder set up its page on the web app with images and stories, replete with a tagline indicating where these stories were shared, or what plug in they were shared with.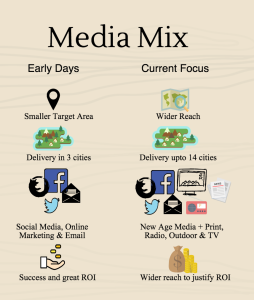 Staying Connected
Another area that Urban Ladder has excelled in is Email Marketing. Rather than viewing emails as purely a sales tool, Urban Ladder positioned it as an important customer engagement vehicle and internally it is still thought of as an email newsletter. The early challenge was more about designing the most relevant and valuable content for customers rather than promotion of specific products. Here too, the focus was on education of the customer and engagement. This approach ensured that the emails stood out from the pack offering subscribers genuine value. Examples include the furniture-buying guide, D-I-Y ideas for the home, tips for decorating different parts of your home, Home Improvement ideas and so on. Right from the beginning, and this continues to be so – email
was considered a means to build trust with the end user.
This idea of using email for qualitative engagement also ensured that the list building effort was geared towards acquiring genuinely interested and involved customers rather than large volume database. Given that furniture is not always an impulse purchase, engaging with the right audience and positioning Urban Ladder as a great option was more important than dishing out discounts or deals.
"The person we send our emails is ideally an involved customer and not just a deal hunter. Right at the start, we spent time to analyse the click-through rates and open rates and tried to understand how to improve them. On principle, we never look at purchased lists. Every additional subscriber was voluntary, permission driven, from people who want to subscribe and get real updates. We used tools like pop-ups on the website, a referral campaign and social media to tell more people what we were about. The guiding rule was that people on our list wanted value in return for permission to mail them. All email content had to measure up to this." – Suruchi Jajoo, Corporate Communications, Urban Ladder
Marketing success of Urban Ladder
The communally shared experience that shopping for lifestyle needs, has been a longstanding dimension to informed decisionmaking on purchases. People tend to rely on the word of those who have already experienced – successfully or unsuccessfully – a given purchase experience, and do not hesitate to replicate a positive experience in their lives if it is a trusted review they rely on. Urban Ladder has achieved tremendous success by situating its products in the customer's home, and sharing that experience with potential customers. By explicitly offering a window into the world of how its products are placed in a real space, Urban Ladder deconstructed the many concerns relating to online shopping.
Secondly, instead of waiting for customer testimonials to come in, and capitalising on the visually centric exchanges on the online digital space, Urban Ladder kept an ear to the ground to keep track of its mentions on social media. By using a hashtag #ULStory and #UrbanLadder, customers shared their photographs and words of appreciation for Urban Ladder and its products and services, which were immediately curated on their forum. With minimum effort for the user and for Urban Ladder too, it was a smart way to collate user generated content for its platform and attention to its products. Another great way they used customer stories to augment product information on the site. This repurposing of testimonials has ensured it is not lost in a melee of information and verbosity but shows up at the right time when future buyers of the product are browsing and evaluating options.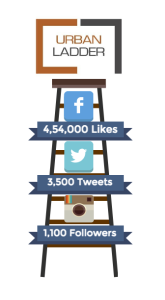 Clearly, Urban Ladder successfully crafted a mechanism to leverage attention for its products and its brand philosophy by building blocks of trust in its existing and potential customers. When potential customers hear of a brand's successes, especially in larger numbers, it represents both, qualitative and quantitative reviews that leverage a brand's trust and strengthen the perspective of the brand in the eyes of a potential customer.
Across the board, Urban Ladder has seen that on social media, targeting has been very focused, and they have always sought to work with buyer personas that work best for their business. Even on social media, their approach is to gain quality, interested fans rather than just volume or numbers. Focusing on fewer tools and media, they spend time in gleaning insights and approaches to make the chosen avenues work well for them.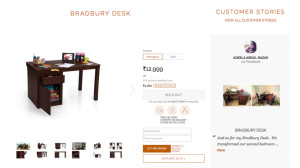 What are the key take home points from Urban Ladder's marketing campaign?
Urban Ladder's use of customer testimonials and responses as a marketing tool is a benchmark for the category. The most successful businesses convert their customers into brand ambassadors and sales force and in effect this is what Urban Ladder has achieved. It has also ensured that this element retains the high emotional connect that buyers retain after their shopping online.
Structuring its testimonials and positive reviews in such a way that it increases leads and conversions of visits online into tangible effects offline took care of two things. One, the hassle of generating unique and relevant content was non-existent, for content became something that the customers themselves owned. Two, the testimonials became a springboard for engagement and action, through real time customer exchanges and conversion of potentials to actual tangibles. The key point to note in this regard is that Urban Ladder remixed the hackneyed word of mouth publicity by using the internet as a medium.
 A second key take home point for Urban Ladder's marketing campaign is that it was a straightforward, honest and sincere exposition of customer feedback. A cursory glance at their wall of testimonials also reveals that the customer's voice has been retained as it is: regardless of whether they use short forms and smiley icons, or British English outright. Where there are areas of improvement, there have been no qualms in revealing them as they come, demonstrating the values of the brand more than mere words could do.
Urban Ladder's campaign has an interesting take home in the form of the manner in which social media platforms were used. The hashtag across the different avenues remained the same, and the modus of communication across the different platforms remained the same – a photograph and a few words as a review was the common denominator. While most brands look at each channel as a unique and individualised platform and customise messaging and marketing efforts for each, Urban Ladder integrated all the mainstream social media platforms into one route to channel testimonials across the board, to land up on one spot.
We find that Urban Ladder's overarching emphasis on driving engagement with genuine users has worked very well in their favour. Every channel used – be it social media, email or the Urban Ladder kiosk at airports for that matter, the driving guideline is to allow prospects and customers to engage with the brand in some way. Rather than dilute the interaction to mere discounts or deals, the effort taken to deliver greater value to the prospect has ensured that the brand has built a community of customers and users. This definitely augurs well for a long-term relationship with customers, who stay loyal and retain their involvement with the brand rather than behave like mere deal hunters
Written by: Kirthi Jayakumar
Research team: Pavithra Charan | Keerthi Ramesh | Sujani Dwarak
Special thanks to: Suruchi Jajoo, Corporate Communications, Urban Ladder