What's the campaign all about?
MakeMyTrip.com is the pioneer that kicked off the online travel revolution in India by allowing users to book tickets on flights and to arrange for hotels and accommodation across the world. The Indian travel industry found a revolutionary addition in the form of convenience in planning and arranging for trips within India and beyond with the arrival of MakeMyTrip. MakeMyTrip.com made its India debut in September 2005 with its Lowest Airfare Guarantee and soon diversified its online travel offerings to include domestic and international holidays. Targeted at the small business and leisure travellers, it became a name recognised duly with values of reliability and transparency in its operations.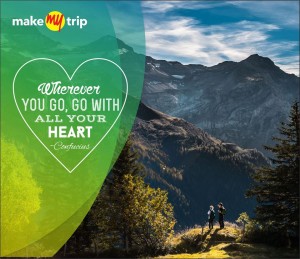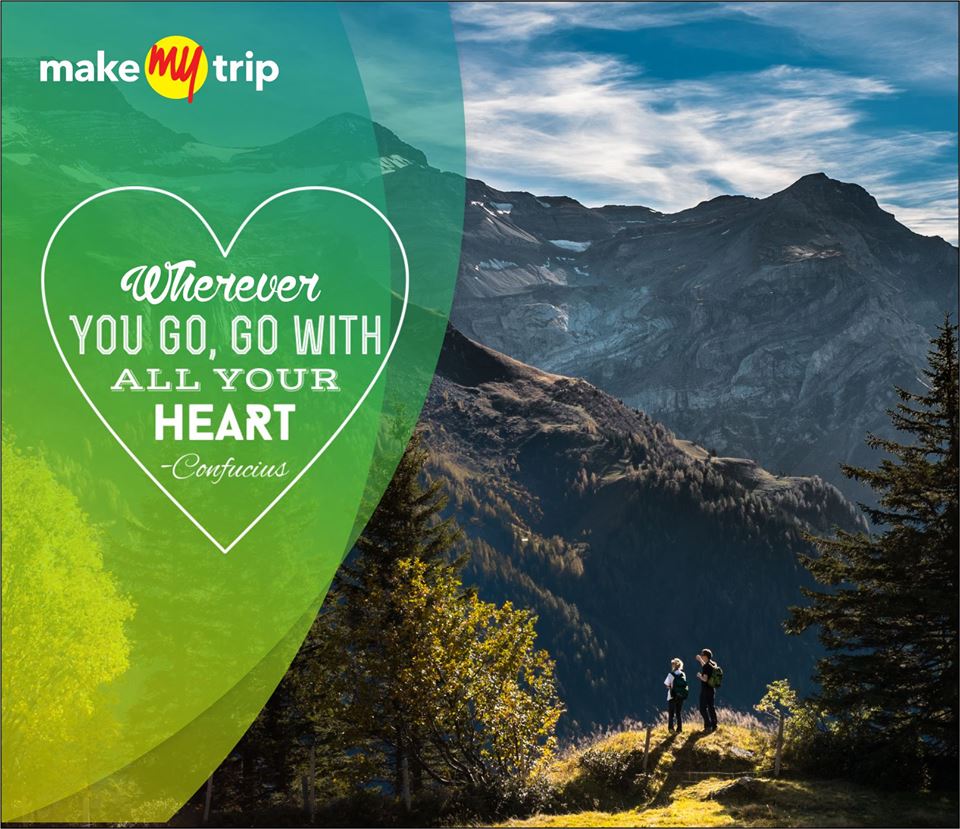 MakeMyTrip was clearly one of earliest players in the world of business to have taken social media and content driven marketing as seriously as traditional marketing, at a time when companies were apprehensive about venturing into the online space for their marketing needs. With the single objective of empowering the traveller, their marketing strategy effectively uses their social media platforms integrating the content and campaigns in a way that complemented each other.
What was their marketing approach on Social media?
Make my trip's social media marketing approach, involved campaigns across key social media platforms with strong emphasis on customised content for each of the platforms encouraging customer engagement. With strong presence across the key social platforms including Facebook, Twitter, Pinterest and YouTube and customised content that users can benefit, MakeMyTrip empowered the traveller allowing them build and incorporate their own travel itineraries. While the tone of communication has remained consistent, the mode of delivery of the content is tailored to suit each platform.
On Facebook, MakeMyTrip has used a varying approach to drive constant engagement through sharing, commenting and likes. Their content strategy across Facebook and Twitter involved a balanced mix – ranging from posts that promoted their offers, to thematic travelogues, travel tips and trivia catering to a wide demographic of small business and leisure travellers. By efficiently using hashtags such as #Luxury Travels, #Nature Trips, #Adventure Trips, #ManMade wonders and #Relaxing Holidays, every content piece had a clear Call to Action. MakeMyTrip also had a virtual travel support desk available for travellers with nuggets of information specific for travellers.
Through tweet chats and the timely content appealing to a large cross section of their audience, their hashtag #MakeMyTrip made it to a list of national level trends across multiple campaigns.
MakeMyTrip is also one of the few brands to have successfully leveraged its presence on Pinterest. With over thirty boards and counting, they cover a range of categories such as Best Travel Destinations, Food and Drink, Beaches, Festivals, Unique Places, Museums and Art on the one hand, and a whole range of picturesque locations titled with the name of specific destinations such as Kashmir, Rajasthan, Hong Kong and the like.
Makemytrip's YouTube channel is a hub for their Television commercials, and videos that cover everything from exotic travel destinations, hotels and travel tips. With targeted YouTube promotions the brand has over 5000 subscribers and 400,000 views for its videos.
Differentiators that worked:
• Empowering the traveller to customise their travel end-to-end providing them wide variety of options both within India and internationally in simple and effective fashion
• Innovative campaigns such as Hamne Toda Vaada Toh Pay Only Aadha where customers could claim half refund if they were unhappy and #ThanksFor10k where all the users who added up to 10,000 followers on Twitter were thanked – increased brand recognition and highlighted the quality of their products and services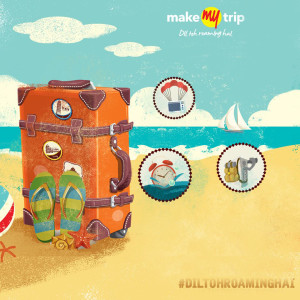 What worked in MakeMyTrip's social marketing campaign?
360 Degree Approach: An integrated 360 degree approach to social media marketing is the key highlight of MakeMyTrip's online marketing strategy. A category of business that's rich in emotion and excitement, MakeMyTrip leveraged this through highly engaging and customised content that is well crafted to suit the different social media platforms. Spread across a range of themes, concepts and ideas, suited to the interests of different demographic groups, their campaigns presented suitably across the platforms – verbose and visually strong on Facebook, to the point and crisp on Twitter, and pictorial, on Pinterest, and engaging on YouTube.
Call to Action: While their campaigns focused on different themes, there was a clear focus to anchor the marketing efforts to sales conversions through effective call to action. For example, a traveller might be on their portal or on their Facebook page, and may see a bunch of posts on ideal travel destinations: the underlying notion is to equip him with the right information so he may choose to travel where he wants. The call to action takes him straight back to the portal, where he is free to book his trip as he pleases.
Customer Service: Customer centricity being one of their core values, MakeMyTrip translated this into the online space as well. They used the social media effectively for customer service by providing responses to queries from customers tackling issues, guiding them, or simply providing required information. One look at MakeMyTrip on social media shows that they are not afraid of criticism – they don't even delete negative feedback, and take a very reassuring tone.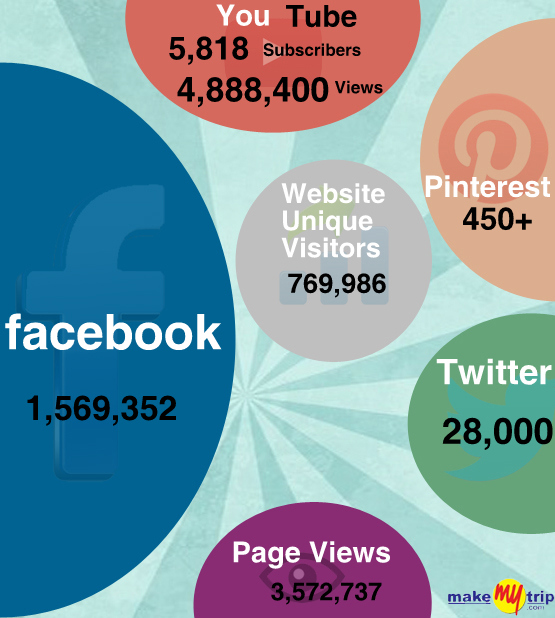 What are the key take-aways from MakeMyTrip's campaigns?
• What we believe worked very well overall was an integrated 360 degree approach to social media that focussed in not only creating awareness about the brand, their products and services, but a compelling content strategy across platforms that contributed to building their business itself. By capturing the customer's attention irrespective of whichever platform they are in, and empowering them with engaging content, they hit the bull's eye.
• What's critical for a business like MakeMyTrip is not just about making the sale but in the providing an overall positive customer experience. While social media is often looked upon as something that is devoid of personal connect, MakeMyTrip has effectively used for managing existing customer relationships by delivering outstanding service through these platforms.
Written by: Kirthi Jayakumar
Research team: Keerthi Ramesh | Ramya Rajaraman