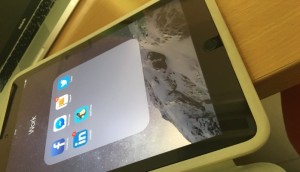 For most of us who run businesses and also serve client interfacing roles in our organisations, most of our days are punctuated by meetings, commuting to and from meetings and every now and then travel. For me, meetings – with clients, prospects, partner agencies, vendors and of course my fellow marketers at Inception – take up a significant portion of my work days. As a marketer who is often on-the-go, I have come to rely on my iPad for getting work done. Here's a pick of my favourite apps from my Work folder on my tablet. If you use some of them already, I would love to know your experience. If you haven't tried these yet, you may want to head to AppStore (or Android marketplace) once you read this. 🙂

1. FB Pages: Given that a fair portion of Inception's work is related to social media, not surprisingly, I seem to have admin access for over a dozen client / brand pages. FB Pages app is what I swear by: to review posts, schedule on the go, and even check insights related to our recent work on the page. It is useful even for loading FB ads to boost posts and promote content, although Facebook now also has an Adverts Manager app that I am yet to try.

2. Twitter: Tweeting and retweeting, and catching up on tweets for info are great ways to utilise time in the car, even on short rides (assuming you are not driving ofcourse!). The twitter app allows you to load multiple accounts and toggle between them, making it easier to stay abreast of Twitter activity and also participate actively.

3. Canva: Marketers at Inception use Canva for a lot of social media creatives and posters. I love using the Canva app as the iPad's touch interface opens up a whole new way of interacting with the tool to create visuals. It is simply so easy and intuitive that I now prefer using Canva app rather than desktop version most of the time!
4. MailChimp: Quite a few of our client email activity is still run on Mailchimp. The app is a bit recent I think. While it doesn't yet support creating campaigns, for my work the current app features are sufficient – mainly to approve email campaigns and review campaign reports. Ofcourse, if you are the kind who patiently waits for the scheduled report to be emailed in to you, you may not really need this app. But I love peeking in to check real time data on how emailers are faring at multiple points after a campaign has gone out and this app ensures I don't bug my team mates for constant updates!

5. LinkedIn: As a marketer and a business owner, I get frequent pings on LinkedIn and I also love connecting with people in my professional network. Like Twitter, I also find LinkedIn a great source for knowledge articles, perspectives on management ideas/concepts and a whole lot more. To ensure I don't miss too much, I use the LinkedIn app. That way, I have cut my response time to LinkedIn activity to less than 24 hours.

6. Asana: For projects and task tracking and team collaboration, we at Inception use Asana, which I consider the 8th man-made wonder in the world. 🙂 The App is just a mighty useful tool, making it easier to create tasks and assign them soon after client meetings or even to get my task list for the day up even before I get to office. This is the coolest way to monitor deliverables – a way to ensure no balls are dropped and no deadlines are missed even though you are on the go.
7. Whatsapp: Well, this one is just on my phone, but it occupies nearly equal status to email today. Pings from cousin groups, alumni networks and cycling friends notwithstanding, I have numerous workgroups, some internal to our specific project teams and some including clients. The amount of work that now gets done via Whatsapp is phenomenal. From content drafts and visual approvals to quick feedback, Whatsapp has become an integral part of staying connected at work. Even during international travel, a data connection and/or wifi access ensures that a lot of work is done via Whatsapp – which sometime replaces email and sometimes eliminates phonecalls.
These are just a few of my favourite apps that make my work day a lot more productive (and have helped me stop carrying my MacBook around everywhere!). There are several more out there. Ping me to tell me which ones have helped you the most. I still have space left on my iPad! 🙂
Pavithra Charan
Founder & Director
Inception Business Services